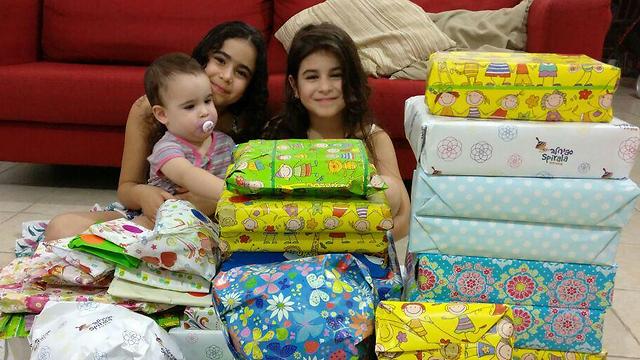 Photo via Tom Ayak Aviran




Two sisters, Ellie and Noor Ayak Aviran, matured 6 and 8 from Nahalal (close Haifa), sorted out an uncommon gathering on Saturday in front of Rosh Hashanah with the goal of gathering presents for destitute youngsters. Forty-five presents were brought by the principal grade students of Nahalal.




Tom, the young ladies' mom, clarified, "Everything started barely a week back when Ellie said to me, 'In the event that you made a birthday party with companions, I would give every one of the presents to poor people.' Noor answered that it wasn't conceivable to give the presents since whoever brought them expected them for her, and exchange started. Toward the end, they concluded that they needed to have a 'fun and satisfaction party' and present to every one of the presents to poor kids." Matan, Nor and Ellie




From Ellie's viewpoint, the purpose behind holding a gathering was to convey endowments to destitute youngsters "since we have and they don't." Noor clarified that she didn't feel that penniless families are despondent "in light of the fact that they have butterflies and blooms that can make them upbeat."




In any case, the two held a bright gathering in the town for every one of the kids in the main review (whose guardians added to the errand), and at last, almost 45 presents were contributed. At night, the young ladies sat with their folks, Tom and Itai, and with their infant sister Matan, and wrapped the presents for their beneficiaries. Tom said, "It was truly critical that a child bring a toy for a child, a toy and not sustenance or different items.




To each toy, a drawn note was connected that the children readied as a feature of the gathering's exercises. On Sunday, we'll convey them to the welfare focus in Nazareth Illit, and from that point they'll be exchanged to kids. I was only the maker; the entire thought and longing was the young ladies'."